Choose the right clients
A pastry distributor achieves business nirvana by ditching his biggest customer.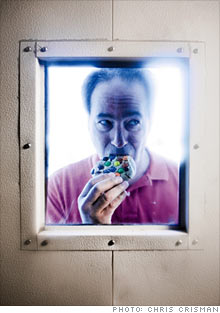 (Fortune Small Business) -- Like many entrepreneurs, Jim Christy set out to boost revenues by reaching a bigger market. But the founder and CEO of Incredible Foods, a dessert delivery service in Gibsonia, Pa., soon found that bigger sales don't necessarily equal better business.
Christy, 55, was inspired by a San Diego bakery's cheesecake. He bought a slice during a West Coast jaunt in 1994, and found love at first bite. After ordering 30 more cheesecakes from the same bakery, he launched Incredible Foods to sell the pastry to local food vendors in Pennsylvania, his home state.
The business soon expanded beyond its flag-ship product, landing accounts to provide universities, hotels, and restaurants with everything from tortes to Danishes. Christy hired outside drivers who delivered his sweets across the state.
Incredible Foods quickly landed one of the biggest accounts of all: Starbucks (SBUX, Fortune 500).
"They were opening new stores in northeast Ohio and Pennsylvania in 1998 and wanted me to distribute a single product, a crumb cake," says Christy.
But as Starbucks locations multiplied, Christy's workload ballooned. Revenues reached $3.4 million in 2005, but soaring overhead wiped out Christy's profits.
"I had two employees who did nothing but write reports for Starbucks," he recalls. "Starbucks was opening ten stores a year in each of its regions, so we had five trucks on the road going in different directions. The cost of fuel, employee benefits, insurance, and workers' comp made the whole thing completely unprofitable."
That year Christy decided to cut the cord. He delivered his last pastry to Starbucks in October 2005. The account generated 48% of Incredible Foods' annual revenues, but Christy believed that he could run a stronger company without Starbucks. So he shrank the staff from 13 to six, eliminated one of his two offices, and focused his marketing attention on local customers who closed deals with a handshake, generally without resorting to squadrons of lawyers and accountants.
It paid off. Last year Incredible Foods posted an 11% increase in profits on revenues of $2.2 million, and Christy expects a 22% revenue increase this year.
"I can do half the business, make twice the money, and have a tenth of the headaches," he says.

To write a note to the editor about this article,
click here
.



My dream is to launch my own business someday. Now that it's time to choose a major, I'm debating if I should major in entrepreneurial studies or major in engineering to acquire a set of skills first. Is majoring in entrepreneurship a good choice?
More
- Spate, Orange, Calif.

More Small Business

Next Little Thing 2010