Find your niche
An office furniture supplier sharpens her focus and prospers.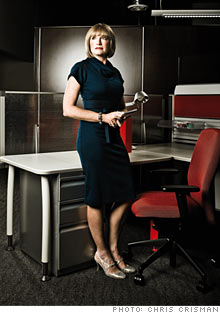 (Fortune Small Business) -- Deni Tato serves a market that spends less when the economy languishes. But Tato isn't sweating the current slowdown. Ever since she chopped an arm off Contract Interiors, her Cincinnati-based office furniture supply business, the CEO runs a leaner, more profitable operation.
While her staff has shrunk from 50 in 2000 to about 18 today, revenues have held steady at more than $15 million a year.
When Tato, 52, started her business back in 1986, she envisioned a vertically integrated firm that would handle sales, installation, delivery, and service. After she bought a large distributor in 1992, Contract Interiors moved into a 55,000-square-foot warehouse filled with thousands of chairs and desks.
But when the office furniture market dipped in 2000, Tato reassessed her business model - and wasn't happy. "I looked closely and saw that our high overhead kept us from being as profitable as we should have been," she recalls. "I realized that our genius was in sales and marketing. So I decided to rethink everything."
In 2001, Tato forged partnerships with two local installation companies, which bought her warehouse and trucks and also absorbed many of her former employees. She then turned a critical eye on her streamlined staff. Contract Interiors was now firmly focused on its core competency. Why shouldn't its employees focus on theirs?
"We used to have individuals work alone on accounts," says Tato. "But I restructured them into teams. So now one person brings in an opportunity. A product expert takes it from there and then passes it on to someone who thinks about price and logistics. Each is the best at what they do."
Contract Interiors' chief financial officer, Ray McCleese, points out that many of the firm's competitors are now trying to cover their overhead by expanding into unfamiliar markets such as carpeting. Tato remembers facing such pressures in her company's earlier days.
"Fifty people were a lot of mouths to feed," she says. "I needed more agility - and found it with a staff of 20 or less."

To write a note to the editor about this article,
click here
.



My dream is to launch my own business someday. Now that it's time to choose a major, I'm debating if I should major in entrepreneurial studies or major in engineering to acquire a set of skills first. Is majoring in entrepreneurship a good choice?
More
- Spate, Orange, Calif.

More Small Business

Next Little Thing 2010