Strange brew: Beer and office democracy
A Colorado brewery views perks like free bikes as a core part of the company ethos.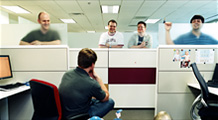 Free beer, generous vacation leave, and a say in company decisions - see how 7 innovative companies are inspiring workers and boosting the bottom line.
(Fortune Small Business) -- New Belgium Brewing Co. likes to do things differently.
After one year of work, each employee receives an ownership stake in the company and a free custom bicycle. After five years every employee enjoys an all-expenses-paid trip to Belgium -- the country whose centuries-old beer tradition serves as a model for the Fort Collins, Colo., brewery. Oh yeah, and employees get two free six-packs of beer a week.
"There's something wrong if making beer can't be fun," says CEO Kim Jordan, who co-founded the company with her husband, Jeff Lebesch, in 1991 (he retired a decade later).
The perks aren't just for fun, though. Each one is an expression of the company's ethos. The free bikes help the environment. The trips to Belgium commemorate Lebesch's bicycle tour of that country's breweries in 1989 -- the original inspiration for the company, now the third largest craft brewery and the eighth largest overall in the U.S.
"Operating a business in a way that is consistent with your values is particularly pleasing," says Jordan, 50.
Those values include employee ownership. Workers own 33% of New Belgium, which has 320 employees and posted $93 million in revenue last year. A large proportion of the staff participates in strategic planning and budgeting. "People are engaged and committed," Jordan adds.
But that kind of team decision-making is difficult for some. "Managers here need to inform people about decisions before making them," says Jennifer Orgolini, 40, New Belgium's sustainability director. "That's the hardest part of adjusting to the culture."
There are other downsides. Some workers "get sucked into an entitlement mentality," Jordan says, citing a staffer who asked to borrow a company car to go on vacation. (The employee was politely told no.)
"Ownership investment gives the company a sense of cohesion, but giving everyone ownership can undermine the hierarchy," says Ben Dattner, an organizational psychologist and principal of Dattner Consulting in New York City. "It can get chaotic."
The recession has led New Belgium to cut back on some benefits. Annual raises have shrunk from between 7% and 8% to 4%, and limits have been imposed on expensable lunches. And until recently workers were allowed to take a full case of beer home each week. That last cutback was hard to take.
"It was a bit of an adjustment," says Orgolini. "It's hard to change what people have gotten used to."

Talk back: Tell us how your company motivates its staff.

To write a note to the editor about this article,
click here
.