Bank of America CEO Ken Lewis to retire
Beleaguered chief executive Ken Lewis to leave after tumultuous tenure. Bank under fire for its merger with Merrill Lynch last year.
Bailout tracker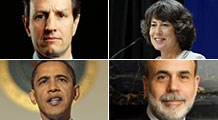 The government is engaged in a far-reaching - and expensive - effort to rescue the economy. Here's how you can keep tabs on the bailouts.
More
NEW YORK (CNNMoney.com) -- Ken Lewis, the beleaguered CEO of Bank of America, announced Wednesday that he will retire at year's end.
Lewis, who was stripped of his chairman title in April, will also step down from the board. No successor was named.
"Bank of America is well positioned to meet the continuing challenges of the economy and markets," said Lewis, 62. "I am particularly heartened by the results that are emerging from the decisions and initiatives of the difficult past year-and-a-half. The Merrill Lynch and Countrywide integrations are on track and returning value already."
The Charlotte, N.C.-based bank has had a tumultuous time during the mortgage meltdown.
In January 2008, it acquired Countrywide Financial, the poster child for the subprime lending crisis.
Then in September, amid the global financial frenzy, Bank of America (BAC, Fortune 500) stepped in to rescue Merrill Lynch in an acquisition that has since caused it many headaches. The Securities and Exchange Commission, after a judge threw out a $33 million settlement, is ramping up its pursuit of the bank for allegedly misleading investors about bonuses paid to Merrill employees.
Meanwhile, Congress is probing the merger, and New York Attorney General Andrew Cuomo is moving to bring charges against the bank and possibly its executives over the deal.
"Our investigation has uncovered troubling facts about Bank of America's acquisition of Merrill Lynch, and Mr. Lewis was at the center of this controversy," said Rep. Edolphus Towns, D-N.Y., chairman of the House Committee on Oversight and Government Reform. "We hope that Bank of America's new leadership will quickly repay American taxpayers and help us finally resolve unanswered questioned about this merger."
For his part, Cuomo said Lewis' retirement "will have no impact" on its continuing investigation.
The bank, however, needed rescuing of its own over the past year. Bank of America, which received $25 billion in bailout funds last fall, wound up needing another $20 billion in government aid to help it complete the Merrill deal.
Its financial standing has been looking up lately. Bank of America in July announced better-than-expected second-quarter earnings of $3.2 billion, or 33 cents a share. Shares closed at $16.92 Wednesday, up from a low of $3.14 on March 6. The stock price jumped 33 cents in after-hours trading, soon after Lewis' retirement was announced.
Hoping to alleviate some of the scrutiny the company is now facing, BofA America announced in September it had terminated the asset-guarantee program it struck with the U.S. government earlier this year to insulate the firm from the toxic assets it acquired from Merrill. The bank agreed to pay the government $425 million to end the deal.
Lewis, who has served as chief executive since 2001, joined a predecessor to Bank of America in 1969 as a credit analyst. He is the only two-time winner of American Banker's "Banker of the Year" award, the most recent accolade coming in 2008. A year earlier, he was named one of the 100 most influential people in the world by Time magazine.
Who replaces Lewis remains to be seen. The bank just shook up its senior management in August, shifting Brian Moynihan to head of consumer banking, the company's largest division, from its investment banking arm.
However, he is not yet ready to assume the top post, said analyst Nancy Bush, founder of NAB Research.
"They'll have to bring in someone from the outside," Bush said. Moynihan's "just not seasoned enough."

Features

These Fortune 100 employers have at least 350 openings each. What are they looking for in a new hire? More

It would be the world's second-biggest economy. See how big companies' sales stack up against GDP over the past decade. More