Stocks slump as dollar spikes
Wall Street tumbles after the Dow briefly hits the 10,000 level, as investors sell into the advance.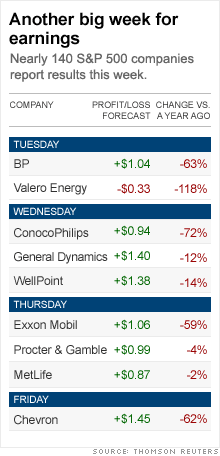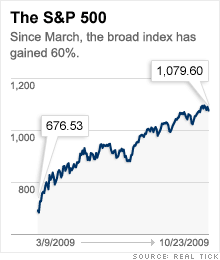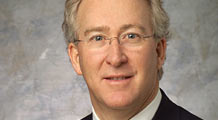 The government is slashing pay for top execs at firms bailed out by taxpayers, but plenty of people are still raking in the dough. Here are last year's top earners.
NEW YORK†(CNNMoney.com) -- Stocks tumbled Monday, retreating after the Dow climbed above the 10,000 level again, as a stronger dollar battered commodity shares and the financial sector took a hit.
The Dow Jones industrial average (INDU) lost 104 points, or 1%, after having gained as much as 100 points in the morning. The S&P 500 (SPX) index fell 13 points, or 1.2%. The Nasdaq composite (COMP) dropprf 13 points, or 0.6%.
Stocks gained in early trading, but did an about-face as the greenback firmed up. Financials spearheaded a broad-based selloff, with 27 of 30 issues falling, including Bank of America, JPMorgan Chase (JPM, Fortune 500), Chevron (CVX, Fortune 500), Hewlett-Packard (HPQ, Fortune 500), Caterpillar (CAT, Fortune 500), Boeing (BA, Fortune 500) and United Technologies (UTX, Fortune 500).
The dollar turned higher on the back of a stronger-than-expected Treasury auction, pressuring dollar-traded commodities and big multi-nationals that benefit from the weak dollar, said Richard Campagna, chief investment officer at 300 North Capital.
The financial sector was hit by reports over the weekend that Bank of America (BAC, Fortune 500)'s plans to repay federal bailout money may have hit some roadblocks. Regional banks Fifth Third Bancorp and SunTrust were both downgraded to "sell" by Richard X. Bove of Rochdale Securities.
But the selloff was also a continuation of last week's declines, Campagna said. "I think people are very nervous short term even though the prospects are positive long term."
Stocks ended last week lower, with investors not impressed by the latest spate of better-than-expected quarterly results, including Microsoft and Amazon.com late in the week.
Since bottoming at a 12-year low on March 9, the S&P 500 has gained nearly 60%, with any modest selloff being met with renewed buying interest. But in the last week, that trend has changed a little, with the buyers sitting out.
"The market got a little overextended through mid-month and some people are waiting for an opportunity to jump back in," Campagna said. "Meanwhile, the short-term guys want to cash out, so you're seeing some weakness.
Tuesday brings quarterly results from BP and Valero Energy and economic reports on durable goods orders in September, the Case Shiller home price index for August and the October Consumer Confidence index.
Quarterly results: Dow component Verizon Communications (VZ, Fortune 500) said profit tumbled 30% as higher costs countered an increase in revenue from its strong wireless business. Nonetheless, earnings topped expectations. The company also reported higher quarterly revenue. But shares slipped, getting dragged down in the bigger selloff.
Just shy of 140 components of the S&P 500 are due to report quarterly results this week. With 206 companies, or 41% of the S&P 500 having already reported, profits are currently on track to have fallen 18.3% from a year ago, according to Thomson Reuters.
So far, results have been soundly above forecasts, with 81% of companies topping expectations, 7% meeting and 12% missing.
Company news: Capmark Financial, one of the country's largest commercial real estate lenders, filed for bankruptcy protection Sunday, reflecting the major problems in the business property sector.
Dutch financial services firm ING (ING) said Monday it plans to spin off its insurance business and sell $11.3 billion of stock to pay back some of what it took in bailout money from the government last year.
World markets: Global markets were negative. In Europe, London's FTSE 100 lost 0.8%, France's CAC 40 lost 1.2% and Germany's DAX gave up 1.3%. Asian markets ended lower.
Bonds: Treasury prices tumbled, raising the yield on the 10-year note to 3.54% from 3.48% late Friday. Treasury prices and yields move in opposite directions.
Yields jumped as the government completed the first few auctions in a record week for debt sales. Treasury sold $30 billion in six-month notes, $29 billion in 3-month notes and $7 billion in five-month Treasury Inflation Protected Securities, or TIPS. All three saw strong demand.
Currency and commodities: The dollar gained versus the euro, after falling to a 14-month low last week. The dollar gained versus the yen as well.
The stronger dollar pressured dollar-traded commodity prices.
U.S. light crude oil for December delivery fell $1.82 to settle at $78.68 a barrel on the New York Mercantile Exchange.
COMEX gold for December delivery fell $13.60 to settle at $1,042.80 an ounce. Gold has surpassed records repeatedly this month due to the weak dollar and longer-term worries about inflation.
Market breadth was negative. On the New York Stock Exchange, losers beat winners thee to one on volume of 1.39 billion shares. On the Nasdaq, decliners beat advancers two to one on volume of 2.34 billion shares.

Features

These Fortune 100 employers have at least 350 openings each. What are they looking for in a new hire? More

It would be the world's second-biggest economy. See how big companies' sales stack up against GDP over the past decade. More