Dow spikes to 13-month high
A better-than-expected housing market report, a weak dollar and a surge in commodities are pushing the market to new 2009 highs.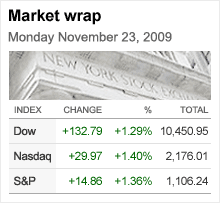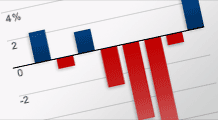 The recovery from the Great Recession has likely started. But many economists are worried about falling into another downturn. Here's what has them concerned.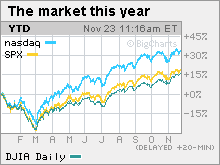 NEW†YORK†(CNNMoney.com) -- Stocks surged Monday, with the Dow touching its highest point in more than a year, on a strong housing report and a rally in commodities.
The dollar's initial weakness versus the euro helped lift gold to another record, putting the precious metal within $36 of $1,200 an ounce. However, the dollar staged a comeback by the early evening.
The Dow Jones industrial average (INDU) gained 133 points, or 1.2%, closing at 10,450.95, its highest point since October 2, 2008. The Dow rose as much as 177 points in the morning, hitting 10,495.61 -- the highest trading level since Oct. 3, 2008.
The Nasdaq composite (COMP) climbed 30 points, or 1.4%, closing short of a 13-month high hit last week. The S&P 500 (SPX) jumped 15 points, or 1.4% but ended short of its 13-month high hit last week.
Stocks had slipped for the last three sessions, ending last week mixed, as investors pulled back a bit after pushing the Dow to a 13-month high. But Monday's news brought a new wave of buying.
"The market is still in the euphoric state, with people coming to the realization that they can't keep much, if anything in money markets or cash," said Matt King, chief investment officer at Bell Investment Advisors. "Investors are trying to pick up riskier assets and get some yield on those assets."
He said that after October's slight pullback, November has clearly been another up month for investors, with the S&P 500 climbing around 6%. And, King added, there is little on tap between now and year end to disrupt the flow, although the pace of gains is likely to slow.
Since bottoming at a 12-year low on March 9, the Dow has gained 60% as of Monday's close. In that same period, the Nasdaq gained 69% and the S&P 500 gained nearly 64%.
Trading was light Monday and is expected to keep getting lighter in the day's leading up is expected to lighten up in each session leading up to Thursday's Thanksgiving holiday. All financial markets will be closed Thursday and stocks will close early on Friday.
After the close, Hewlett-Packard (HPQ, Fortune 500) reported higher quarterly earnings of $1.14 per share, in line with its raised forecast that was released last week. The company also reported a drop in revenue. Earnings grew thanks to strength in China and better profit margins, a key measure of profitability. HP also said that it was tripling its share repurchase program to $12 billion.
Shares fell after the close after rising during the session.
Tuesday brings reports on housing and consumer confidence in the morning, as well as the latest revision of third-quarter GDP growth. The minutes from the last Fed meeting will be released in the afternoon.
Housing: Existing home sales in October surged to the highest level since February 2007, according to a National Association of Realtors report released Monday morning.
Sales rose 10.1% in October to a seasonally adjusted annual rate of 6.1 million units, verses a revised 5.54 million units in September. Economists expected sales of 5.7 million units, on average.
The strong sales were largely driven by buyers trying to tax advantage of the government's first-time homebuyer tax credit, which was initially due to expire at the end of November. The credit has now been extended to the end of April and includes a broader range of buyers.
Investors have been looking for the economic news to confirm what many economists say: The recession, which began in December 2007, is over. In particular, a recovery in the housing market is critical as the credit crisis and housing market collapse deepened the economic crisis.
On the move: Stock gains were broad based Monday, with 28 of 30 Dow issues rising, led by Boeing (BA, Fortune 500), Caterpillar (CAT, Fortune 500), Chevron (CVX, Fortune 500), IBM (IBM, Fortune 500), 3M (MMM, Fortune 500), Procter & Gamble (PG, Fortune 500) and Exxon Mobil (XOM, Fortune 500).
The Dow's financial shares rallied, too, including American Express (AXP, Fortune 500) and JPMorgan Chase (JPM, Fortune 500).
Market breadth Monday was positive and trading volume was light. On the New York Stock Exchange, winners beat losers by more than three to one on volume of 980 million shares. On the Nasdaq, advancers beat decliners by more than two to one on volume of 1.86 billion shares.
World markets: Strong markets overseas helped boost U.S. markets. In Europe, London's FTSE 100, the German DAX and France's CAC 40 all surged more than 2%. Asian markets rallied as well.
Currency and commodities: The dollar gained against the euro, recovering from earlier weakness and also gained against the yen.
The dollar's weakness versus the euro had given a boost to dollar-traded oil and gold prices through most of the session, but oil trimmed most of those gains by the close.
U.S. light crude oil for January delivery rose 9 cents to settle at $77.56 a barrel on the New York Mercantile Exchange.
COMEX gold for December delivery climbed $18 to settle at $1,164.70 an ounce after touching a record high of $1,174 earlier in the session.
Bonds: Treasury prices rose, lowering the yield on the 10-year note to 3.35% from 3.34% Friday. Treasury prices and yields move in opposite directions.

Features

These Fortune 100 employers have at least 350 openings each. What are they looking for in a new hire? More

It would be the world's second-biggest economy. See how big companies' sales stack up against GDP over the past decade. More