Stocks falter ahead of jobs report
Wall Street seeks staggers after weekly jobless claims slip ahead of Friday's monthly report. BofA plans to give back $45 billion in federal bailout funds.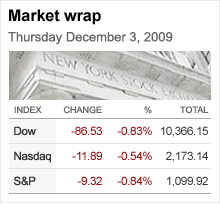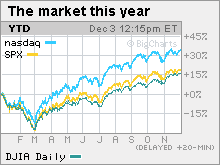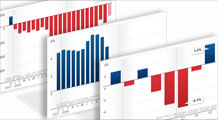 The economy has grown for five straight quarters, but there are signs that the recovery is still fragile.
NEW YORK (CNNMoney.com) -- Stocks zigzagged Thursday in cautious trading ahead of Friday's big jobs report as investors considered the day's economic news, Bank of America's plan to pay back the government $45 billion in aid and the latest from Washington.
Investors were also keeping an eye on the dollar, which fluctuated versus other major currencies, and a joint venture between General Electric and Comcast.
The Dow Jones industrial average (INDU) lost 86 points, or 0.8%. The S&P 500 index (SPX) lost 9 points or 0.8%. The Nasdaq composite (COMP) rose 12 points, or 0.5%.
Stocks gained in the early going, with Bank of America's news lifting the broader financial sector, but the financial sector turned mixed and the advance lost steam as the session wore on.
After watching the market rally more than 60% of the March 9 lows, many investors are now hunkering down in the last weeks of the year.
"Most investors have seen dramatic swings in their portfolios this year and there's a bias against making any big changes in this last month," said Larry Glazer, managing director at Mayflower Advisors. "There's a complacency going into year end that's going to make the jobs report less of a market mover than it might otherwise be."
Market breadth was negative. On the New York Stock Exchange, losers beat winners nearly two to one on volume of 1.13 billion shares. On the Nasdaq, decliners topped advancers by a narrow margin on volume of 2.02 billion shares.
Stocks struggled Wednesday, one day after the Dow industrials closed at a 14-month high. GM's management shakeup, record gold prices above $1,210 an ounce and mixed readings on the job market were all in play.
Also in focus: The Senate Banking Committee was holding its confirmation hearing on Ben Bernanke's second term as Federal Chairman.
Although Bernanke is widely expected to get the go-ahead to serve a second term, some Senators have been critical of the span of the Fed's power.
Committee chairman Christopher Dodd, D-Conn., gave his support to Bernanke in the morning, but also said some of the bank's current powers should be stripped.
Jobs and economy: The number of Americans filing new claims for unemployment last week fell to 457,000 from a revised 466,000 the previous week, the lowest level in 15 months.
Economists surveyed by Briefing.com thought the number would rise to 480,000. The report had only a minor impact on trading ahead of Friday's bigger monthly jobs report.
Employers are expected to have cut 125,000 from their payrolls after reducing 190,000 in the previous month, according to estimates. The unemployment rate, generated by a separate survey, is expected to have held steady at 10.2%.
Third-quarter productivity was revised down to an 8.1% annualized unit rate from a previous reading of 9.5%. Economists surveyed by Briefing.com thought it would fall to 8.5%. In other news, the Institute for Supply Management's reading on the services sector of the economy fell to 48.7 in November from 50.6 in October. Economists surveyed by Briefing.com thought it would rise to 51.5.
Retail sales: Sales for the month of November failed to benefit from a decent Thanksgiving weekend, according to reports released Thursday. Overall sales for the month of November rose just 0.5% versus forecasts for a 2.1% increase, according to Thomson Reuters.
On the upside, Nordstrom (JWN, Fortune 500) said sales rose 2.2% and Limited Brands (LTD, Fortune 500), which owns Victoria's Secret and other chains, said sales rose 3%. Shares of both companies gained.
On the downside, clothing chain Abercrombie & Fitch (ANF) said sales at stores open a year or more, or same-store sales, fell 17% from a year ago. Shares fell 9%. Retailer Children's Place (PLCE) said same-store sales fell 13%, sending shares down 12.5%.
GE-Comcast: Cable operator Comcast (CMCSA, Fortune 500) agreed to buy a majority stake in NBC Universal from General Electric (GE, Fortune 500), in a complex deal that creates a new entertainment company that would be worth $37.25 billion. The joint venture, consisting of NBC businesses and Comcast's cable networks, will ultimately give Comcast a 51% stake and GE a 49% stake.
Gold dips after new record: COMEX gold for February delivery rose $5.30 to settle at a new record of $1,218.30 an ounce.
The dollar and oil: The dollar fell versus the euro and gained against the yen.
U.S. light crude oil for January delivery fell 14 cents to settle at $76.46 a barrel on the New York Mercantile Exchange.
World markets: Overseas markets were mixed, with London's FTSE 100 and Germany's DAX each losing about 0.2% and France's CAC 40 ending with modest gains. Asian markets advanced, with Japan's Nikkei ending 3.8% higher.
Bonds: Treasury prices slipped, raising the yield on the 10-year note to 3.37% from 3.32% late Tuesday. Treasury prices and yields move in opposite directions.

Features

These Fortune 100 employers have at least 350 openings each. What are they looking for in a new hire? More

It would be the world's second-biggest economy. See how big companies' sales stack up against GDP over the past decade. More