Wall Street jumps to 14-month highs
Stocks advance as financing from Abu Dhabi cools default worries. Citigroup closes deal to repay TARP.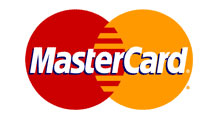 It's unlikely that equities will enjoy a repeat of the mass revival of 2009. But we've found 10 stocks that should prosper even if the markets don't.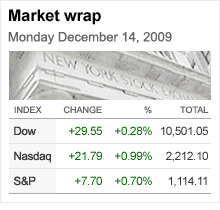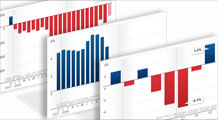 The economy has grown for five straight quarters, but there are signs that the recovery is still fragile.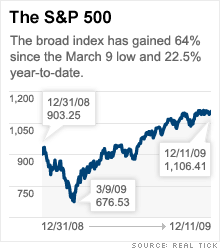 301 Moved Permanently
---
nginx
NEW YORK (CNNMoney.com) -- Stocks gained Monday, with the three leading indexes closing at 14-month highs, after Citigroup said it will pay back government bailout funds and Dubai received $10 billion to cover its debt, easing worries the emirate might default on billions it owes.
The weak dollar also helped, lifting commodity shares and the stocks of companies that do a lot of business overseas.
The Dow Jones industrial average (INDU) rose 30 points, or 0.3%, closing at the highest point since Oct. 1, 2008.
The S&P 500 index (SPX) gained 8 points, or 0.7%, closing at the highest point since Oct. 2, 2008. The Nasdaq composite (COMP) rose 22 points, or 1%, closing at the highest point since Sept. 19, 2008.
After propelling the market off of 12-year lows hit in March, the S&P 500 has risen 64% as of Friday's close.
"The market has shown some extraordinary strength here, but I think we're moving into a period of greater volatility," said Don DeWaay, CEO at DeWaay Capital Management.
"This market is running a lot more on emotion now, rather than fundamentals," he said.
The Dow closed at a 14-month high Friday after better-than-expected reports on retail sales and consumer sentiment, but broader gains were limited by tech weakness and a strong dollar.
Citigroup: Citigroup said Monday that it will return $20 billion in bailout money to the government through a combination of stock and debt offerings.
Citigroup (C, Fortune 500) said the bulk of the payment will be funded through a $17 billion common stock offering. The company also said Treasury will sell up to $5 billion of the $25 billion in Citigroup common stock it holds shortly, and sell the rest of it over the next year.
Obama: President Obama met Monday with top executives of some of the nation's biggest banks, including JPMorgan Chase (JPM, Fortune 500), Bank of America (BAC, Fortune 500) and Wells Fargo (WFC, Fortune 500).
He said his main message to bankers was that banks received extraordinary assistance during the crisis, and now that the industry is back on its feet, it needs to reciprocate. He is expected to urge bankers to provide greater lending, cut back on bonuses and support financial reform efforts.
Exxon-XTO deal: Dow component Exxon Mobil (XOM, Fortune 500) said it will buy XTO Energy (XTO, Fortune 500) in a $41 billion stock and debt deal that values XTO shares at a 25% premium to its Friday closing price. The deal also includes the assumption of $10 billion in debt.
Exxon shares fell 4% and limited any gains on the Dow. XTO shares rallied 17%.
Dubai: Worries that Dubai might default on billions of dollars in debt rattled world markets at the end of last month. But some of those fears have eased over the last few weeks on signs that any fallout will be limited.
Fears were further soothed Monday after the city-state received $10 billion in financing from Abu Dhabi, another of the United Arab Emirates.
World markets: Overseas markets gained. In Europe, London's FTSE 100 rose 1%, the German DAX rose 0.8% and France's CAC 40 rose 0.7%. Asian markets rose, with the exception of Japan's Nikkei, which was little changed.
Dollar: The dollar slipped versus the euro and the yen, turning lower after the recent rally.
A weak dollar has added to the more than nine-month-old stock rally over the past nine months, giving a boost to dollar-traded commodities, as well as commodity shares and the stocks of companies that do business overseas. But so far in December, the dollar has been mixed or stronger, putting some pressure on stocks.
Commodities: The weak dollar gave a lift to dollar-traded commodities. COMEX gold for February delivery rose $3.90 to settle at $1,123.80 an ounce. Gold closed at an all-time high of $1,218.30 an ounce earlier this month.
U.S. light crude oil for January delivery fell 36 cents to settle at $69.51 a barrel on the New York Mercantile Exchange.
Bonds: Treasury prices were little changed, with the yield on the 10-year note standing at 3.55%, unchanged from late Friday. Treasury prices and yields move in opposite directions.
Market breadth was positive. On the New York Stock Exchange, winners topped losers roughly three to one on volume of 1.08 billion shares. On the Nasdaq, advancers beat decliners two to one on volume of 1.86 billion shares.

Features

These Fortune 100 employers have at least 350 openings each. What are they looking for in a new hire? More

It would be the world's second-biggest economy. See how big companies' sales stack up against GDP over the past decade. More