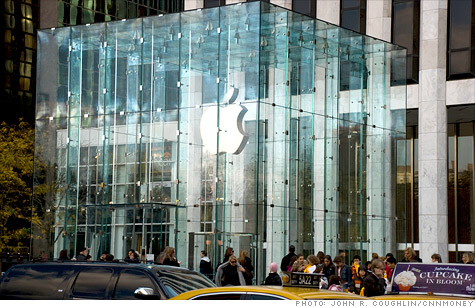 NEW YORK (CNNMoney) -- Apple filled its chairman of the board void left by Steve Jobs's death, naming the board's co-director Arthur Levinson to the position.
The company also appointed Bob Iger, Disney's CEO and a former close personal friend of Jobs, to the board.
"Art has made enormous contributions to Apple since he joined the board in 2000," said Tim Cook, Apple's CEO, in a prepared statement. "Bob and I have gotten to know one another very well over the past few years and on behalf of the entire board, we think he is going to make an extraordinary addition."
Levinson, a board member since 2005, is the company's longest-serving director. He is also chairman of drugmaker Genentech and a board member of Roche, another pharmaceutical company. Levinson was Genentech's CEO for 14 years until he stepped down in 2009.
He had also sat on Google's (GOOG, Fortune 500) board until 2009, when it became clear that Apple and Google were becoming competitors, particularly in the mobile space. He departed Google's board two months after then-CEO of Google Eric Schmidt stepped down from Apple's (AAPL, Fortune 500) board.
"Apple is always focused on out-innovating itself through the delivery of truly innovative products that simplify and improve our lives, and that is something I am very proud to be a part of," Levinson said Tuesday in a statement.
Iger, who is set to become chairman of the Walt Disney Co. (DIS, Fortune 500) in March and step down as its CEO in 2015, befriended Jobs when he headed up Pixar. Jobs sold Pixar to Disney in 2006, making Jobs then Disney's largest individual shareholder as well as a member of its board of directors.
When Jobs' death was announced last month, Iger called Jobs "a great friend as well as a trusted advisor."
"I am extremely pleased to join the board of such a wonderful company," said Iger in a statement. "Over the years, I have come to know and admire the management team ... and I am confident they have the leadership and vision to ensure Apple's continued momentum and success."
Cook said he believes Iger is a great fit for Apple's leadership team, since Disney's success is based on creativity, innovation and expansion into new markets -- three fundamentals that have helped Apple become the most valuable company on the stock market.