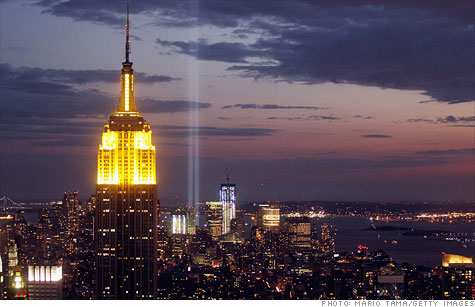 The Empire State Building looms over the Manhattan skyline in September.
NEW YORK (CNNMoney) -- The thousands of tourists who flock to the Empire State Building every year may soon be able to buy a chunk of it for themselves.
The iconic New York skyscraper, along with the One Grand Central Place building on East 42nd Street and another Manhattan property on West 57th Street, may soon become part of a public company, according to documents filed with the Securities and Exchange Commission on Tuesday by Malkin Holdings LLC, which controls the properties.
The news was first reported by the New York Times.
The filings said Malkin Holdings "has embarked on a course of action that could result in" the properties becoming part of a real estate investment trust, which would be open to public investment following an IPO. The filings offered no further information, but said more details would be forthcoming when additional documents are filed with the SEC in about three months.
A spokeswoman for Malkin Holdings said the firm had no further comment.
The Empire State Building, completed in 1931, stretches 102 stories high and has 70 elevators. It has undergone significant renovations in recent years, its lobby restored to its original Art Deco style in 2009 and its 6,514 windows retrofitted last year to improve energy efficiency.