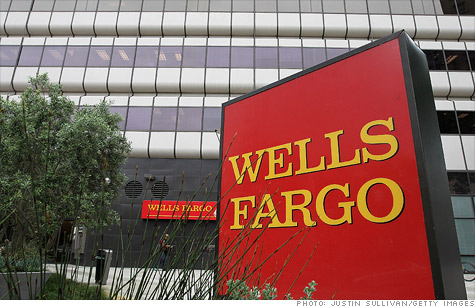 Wells Fargo has agreed to pay $148 million in fines to settle charges that Wachovia Securities engaged in bid rigging.
NEW YORK (CNNMoney) -- Wells Fargo agreed Thursday to pay $148 million to various federal authorities to settle charges that Wachovia Securities, which it purchased in 2008, engaged in bid rigging and other illegal practices in the municipal bond market.
Under the agreement, Wells Fargo is paying $46 million to the Securities and Exchange Commission. Separate settlements with the Justice Department, office of the Comptroller of the Currency, Internal Revenue Service, and 26 state attorneys general total $102 million.
Authorities said Wachovia fraudulently rigged at least 58 municipal bond reinvestment transactions in 25 states and Puerto Rico over an eight year period from 1997 through 2005. They say Wachovia won some bids through a practice known as "last looks" in which it obtained information from the bidding agents about competing bids.
"Wachovia won bids by playing an elaborate game of 'you scratch my back and I'll scratch yours,' rather than engaging in legitimate competition to win municipalities' business." said Robert Khuzami, director of the SEC's division of enforcement, in a statement Thursday.
Wells Fargo's attorneys signed the settlement agreement neither admitting nor denying wrongdoing in the case.
"Wells Fargo is pleased to have fully resolved this investigation of Wachovia Bank," said the bank's statement. The bank said the employees involved in the illegal activity are no longer with the company.
Wells Fargo had previously settled related civil litigation for $37 million.
The SEC has now reached settlements totaling $673 million from its ongoing probe of corruption in the municipal bond industry. Among the previous settlements were $228 million from JPMorgan Chase (JPM, Fortune 500), $160 million from UBS (UBS) and $137 million from Bank of America (BAC, Fortune 500).
Wells Fargo (WFC, Fortune 500) purchased Wachovia in the fall of 2008 when it was on the brink of failure, winning a bidding war with Citigroup (C, Fortune 500), which the FDIC had originally tapped to buy Wachovia and keep it from joining the list of failed major financial firms that fall.