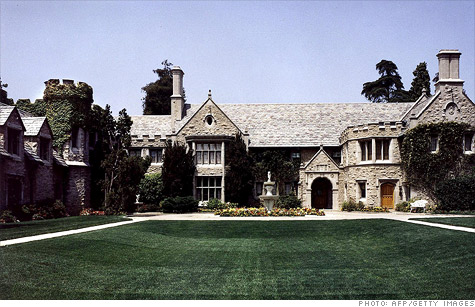 Hugh Hefner is moving Playboy magazine from Chicago to Los Angeles, where he resides in the famous Playboy Mansion.
NEW YORK (CNNMoney) -- Playboy Enterprises announced on Wednesday that it is relocating its iconic magazine from Chicago, the original base of operations, to Los Angeles.
"As of May 2012, Playboy magazine's editorial, art and photo departments will be based out of the company's Los Angeles office," said Playboy spokeswoman Theresa Hennessey. "Some of the magazine's Chicago employees have been asked to relocate, while others have been asked to stay on in Chicago to ensure a seamless transition."
Chicago has served as the magazine's base of operations since its founding by Hugh Hefner in 1953. Marilyn Monroe graced the first issue, which came out in December, just months after the end of the Korean War.
This has been a significant year for the company, which Hefner decided to take private. In a deal that was finalized in March, the company's outstanding shares were purchased by Icon Acquisition Holdings. Hefner, the editor-in-chief and chief creative officer, and Scott Flanders, the chief executive officer, are partial owners of Icon.
The move will bring the magazine closer to Hefner, who has lived for decades in the Playboy Mansion in Los Angeles with his famous harem of girlfriends. He has used the party palace and the well-known Rabbit Head logo as publicity tools, especially with the advent of Internet pornography in the 1990s, which has proven to be his company's greatest rival.
The original Playboy mansion is in Chicago, where it has been converted into condos.
The company didn't reveal the fate of its remaining Chicago operations, including the departments for public relations, human resources, accounting and IT.
"No final decisions have been made yet regarding the future of other departments currently based in Chicago," said Hennessey.