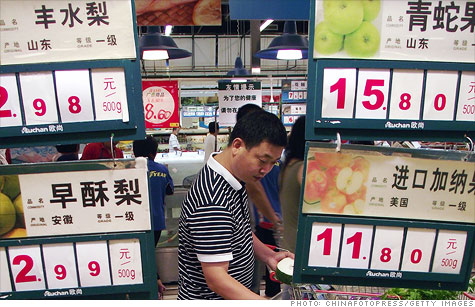 NEW YORK (CNNMoney) -- China's inflation rate cooled for the fifth month in a row in December.
Prices were up 4.1% from the prior year in December, down from a 4.2% annual rate a month earlier, according to the Consumer Price Index released by China's National Bureau of Statistics on Thursday.
That marked the slowest level of inflation since September 2010 and a welcome slowdown for both China's government and consumers, since prices were up a whopping 6.5% in the 12 months ended in July.
Last year, taming rapidly rising prices was one of the Chinese government's top priorities. Officials tightened credit in the country's financial system, and tried to take some of the steam out of a domestic housing boom.
But now that economic growth seems to be slowing and the inflation rate is coming down, policymakers there are shifting their focus. Economists predict the People's Bank of China, the central bank, will soon try to free up credit by lowering the reserve requirement ratio -- the amount banks need to hold in reserves. The bank last cut this rate in November.
"With inflation under control and growing signs of an economic slowdown, we expect continued policy easing to support growth and reduce downside risk," economists at Citigroup wrote in a research note.
Food prices ticked up slightly in December, but economists believe that pick-up was seasonal, due to a shortage of vegetables during the colder winter months.
In general, food cost 9.1% more in December than it did a year earlier, a slightly higher inflation rate than in November -- but still down significantly from a 14.8% inflation rate in July.
China's National Bureau of Statistics is expected to release its latest reading on gross domestic product on Tuesday. Global investors will watch the report to see if the data confirm that growth in the world's second-largest economy slowed in the fourth quarter.