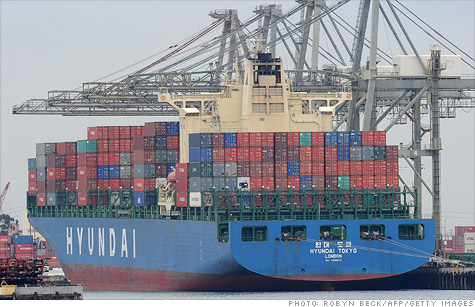 NEW YORK (CNNMoney) -- American exporters are starting to face more headwinds from a decelerating global economy.
After four straight months of narrowing, the U.S. trade deficit widened in November, the Commerce Department reported Friday. The United States imported $47.8 billion more goods and services than it exported during the month, up from a $43.3 billion gap in October.
The gap widened as exports fell 0.9% -- a slump economists mainly attribute to slowdowns in Europe and Asia, which decreased foreign demand for American goods. Imports grew 1.3% in November, partially due to higher oil prices and more auto shipments.
"The rest of the world is slowing, and that's obviously showing up to some extent," said Lewis Alexander, chief U.S. economist for Nomura. "On the domestic side, the U.S. economy is doing a little bit better relative to the rest of the world."
Economists had expected the trade gap to widen, but not that much. Forecasts from Briefing.com predicted the deficit would grow to $44.5 billion.
The data comes on the heels of China's trade balance report earlier this week, which showed exporters there were also hit by weaker global demand at the end of the year.