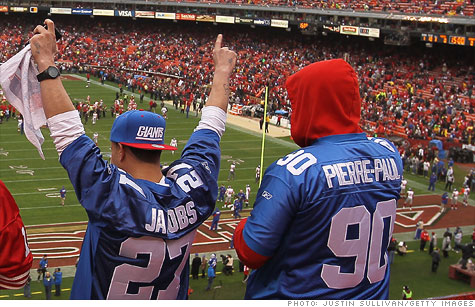 NFL shifting from Reebok to Nike for jerseys and that means they're in short supply heading into Super Bowl.
NEW YORK (CNNMoney) -- If you're looking for many of your favorite Giants player's jerseys before the big game -- fugetaboutit! And if it's Patriots game garb you want, good luck. It's wicked-hard to find!
An upcoming shift in suppliers from Reebok to Nike (NKE, Fortune 500) means there is a shortage of the official licensed jerseys, which typically sell for more than $100, just as the Super Bowl approaches.
Reebok's 10-year contract to be the sole provider of the licensed apparel ends in in April. That means it has been cutting back on inventory so it won't be stuck with items it can't sell. Retailers are also cutting back on their Reebok inventories.
While quarterbacks Eli Manning's and Tom Brady's jerseys still abound, other players' jerseys, such as like Victor Cruz and Rob Gronkowski are in short supply after their breakout seasons.
"Reebok is intentionally running out of product," said Matt Powell, analyst for SportsOneSource Group, which tracks sales of licensed sporting goods apparel. "If this were a normal year, Reebok would be pounding it out, running the factory 24/7."
Powell said that Reebok paid the league about $250 million for its 10-year deal, and that it was selling about $500 million a year before falling to about $350 million this past year.
He estimates Nike will probably sell more than $500 million next year as at least some fans go out to buy new jerseys in order to have the Nike logo.
"A lot of fans want to be as close as they possibly can to what the players wear," said Powell.
Fans of 30 of the league's 32 teams are likely sitting on their wallets and not buying much at this point in the year, Powell said. But the excitement of fans of the teams heading for the championship game makes up for the drop-off in sales from all the other teams.
Powell said the good news for fans is that if they can find the jersey they want, it's probably already on sale despite the shortages.
A spokesman for Reebok, a unit of German apparel and shoemaker adidas (ADDDF), did not return calls seeking comment. But NFL spokesman Brian McCarthy said that the league understood there would be a bit of shortage this year due to the transition.
He said the league isn't that concerned because commemorative T-shirts and caps are actually bigger seller just before and after the Super Bowl than the official jerseys. But Powell points out it can take five of those T-shirt sales to make up for one lost jersey sale.