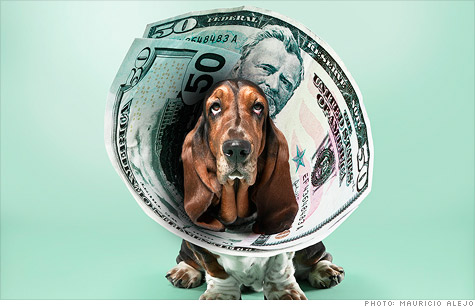 (MONEY Magazine) -- Jinkies, a great dane, was just 10 weeks old when she was stepped on by another dog, breaking the fibular growth plate in her leg. Her owners, Scott and Ronda Warywoda of Twentynine Palms, Calif., were determined to nurse their pet back to health.
After getting the diagnosis -- and learning that the injury could prevent the dog from growing normally -- Ronda drove 65 miles to an orthopedic specialist for experimental surgery to remove part of the bone and to cushion the area with fat from the pup's abdomen. Total tab, including three months of physical therapy: about $8,000.
Those bills put a strain on Scott and Ronda, an X-ray technologist and administrative assistant. Still, she says, "we'd do it all over again."
Americans invested a record $13 billion on vet care in 2011 -- up 89% from a decade ago, according to the American Pet Products Association. Fueling the surge is the fact that domestic animals can now undergo everything from MRIs to stem-cell treatments.
"These days, pets have the same medical opportunities as humans," says veterinarian Emily Pointer of the American Society for the Prevention of Cruelty to Animals.
As a result, over the life of an animal you can now spend into the tens of thousands, particularly if your pet develops a chronic illness. And many owners -- the Warywodas among them -- find it difficult to say no when their furry friend's health is at stake.
Here's how to manage your pet's care costs, without ending up in the financial doghouse:
Keep Fluffy healthy
Many health problems can be avoided with preventive care. That starts with keeping your pet fit. Today 53% of dogs and 55% of cats are overweight or obese, reports the Association for Pet Obesity Prevention.
"Lassie used to be running around saving people, but now she's collapsed in front of the TV watching Animal Planet," jokes Idaho veterinarian and Vetstreet.com columnist Marty Becker.
Just as with humans, extra pounds can lead to costly health problems, like high blood pressure and diabetes.
So shoot to keep your pet at the weight he was as a young adult, says Becker. Get a pooch "panting tired" every day; make sure your feline gets daily play. Weight-reducing pet food can be effective, but it's costly; for most animals, old-fashioned portion control should do the trick.
Pointer advises visiting the vet at least once yearly -- twice as your pet gets into midlife -- to keep small problems in check. Dental disease, for example, can lead to kidney, liver, and heart problems if not caught early.
Be a patient advocate
Some 43% of pet owners feel their vet often suggests treatments that are beyond reasonable and necessary, found an AP-Petside.com poll. For help on when to say when, put these questions to the doctor:
What's the prognosis after care? A cat treated with chemo for large-cell lymphoma, for example, may live only nine to 12 more months, notes Pointer.
What's the alternative? A good veterinarian will give you a range of options.
What will it cost? Besides in-office costs, be sure to find out about follow-up expenses, such as medications. If the cost is prohibitive, shop around among other vets for a better price.
Create your own Fido fund
With pet-care spending skyrocketing, it's no wonder that pet-insurance sales have followed: They're up around 44% since 2009, reports research firm Packaged Facts.
Is a policy worth the price ($25 to $75 a month)? Probably not, says Carbondale, Ill., financial planner Jeff Rose. Many plans have caps on what they'll pay out; others reimburse you only after a per-incident deductible has been met.
Plus, preexisting conditions are generally not covered, and genetic problems are often excluded as well, although some plans offer coverage via a higher premium.
Instead, Rose suggests, start a savings account for your pet's health: "It's like setting up a college fund when your kids are young. You know that eventually they'll need it." Pointer says $3,000 is a good goal, enough to cover at least one Buster-ate-a-sock emergency.
Do you know a Money Hero? Money magazine is celebrating people, both famous and unsung, who have done extraordinary work to improve others' financial well-being. Nominate your Money Hero.