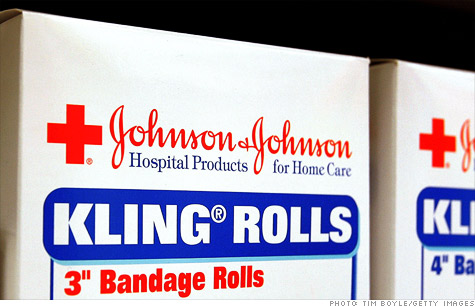 Johnson & Johnson -- the health care giant -- has had a run of costly (and brand-sullying) recalls, but it's helped by a diverse business mix.
(MONEY Magazine) -- A new CEO, Alex Gorsky, is taking over this giant maker of pharmaceuticals and other health products. Job one: Improve Johnson & Johnson's quality control.
The company has had so many headline-grabbing product recalls that in February investor Warren Buffett chastised it for its mistakes. At the same time, J&J (JNJ, Fortune 500) is managing an important merger in its huge medical-devices business.
Despite the drama and risk, the stock may appeal to value-oriented investors looking for a piece of America's rising health spending.
Recalls hit sales hard
Some of the company's biggest brands are in the spotlight.
Since 2009, J&J has pulled consumer products from store shelves for problems including wood particles in Rolaids to mildew-smelling Tylenol. (J&J says the recalls weren't triggered by anyone becoming seriously ill.)
Some products have taken longer than expected to return to market, says Deutsche Bank analyst Kristen Stewart, one reason for a 6.7% drop in U.S. consumer sales in 2011. "Getting these issues behind them will be important," she says.
J&J has a lot to fall back on. Although its over-the-counter drug brands are well known, the consumer segment is also the company's smallest, by about $9.5 billion in sales.
U.S. consumer sales have dipped the last few years, from an increase of 8.3% in 2008, to a decline of -1.4% in 2009, a steeper drop of -19.3% in 2010, and a lesser drop of -6.7% in 2011.
A big bet on devices
To amp up growth, J&J is acquiring another medical-device maker.
J&J's largest business is actually medical devices, and there's a lot for investors to keep an eye on there. Medical devices brings in 40% of sales, compared to 23% for the consumer and 37% for the pharma divisions.
First, some trouble: The company's DePuy division has had a big recall of hip implants, leading to a charge against 2011 earnings.
As it deals with this, J&J is also taking a big splash with its planned $21 billion purchase of Switzerland-based Synthes. Mergers can be tough to manage, and this will be no exception, since it will make DePuy 70% larger. The merger, which now has approval from EU regulators, will increase J&J's exposure to the growing trauma sector -- devices such as pins and screws for fractures. Synthes grew sales by 8% in 2011, compared with 5% for J&J's device line.
Plenty of income ...
Unlike the case with other pharma stocks, J&J's ability to generate cash isn't troubled by patent-expiration woes.
Although the long-run outlook for health care spending is up, up, up, investors have attached low valuations to pharma companies because of a wave of expirations of valuable patents.
J&J's patent portfolio is relatively strong, but the stock is priced low enough to deliver a 3.5% dividend yield. (Yields fall as prices rise.) That puts it below the typical drug stock dividend payout of 4.3% but above the average blue-chip yield of 1.9%.
J&J has increased its dividends consistently for 45 years, and Morningstar analyst Damien Conover says the company generates enough cash from its sales to continue making a decent payout to shareholders for a long time to come.
Sources: Johnson & Johnson, Synthes, Deutsche Bank
Do you know a Money Hero? MONEY magazine is celebrating people, both famous and unsung, who have done extraordinary work to improve others' financial well-being. Nominate your Money Hero.