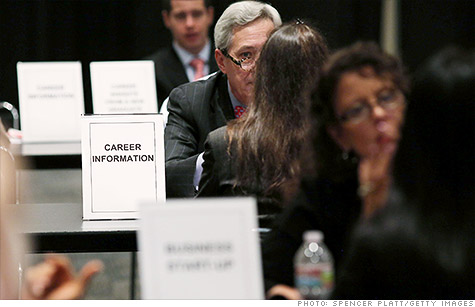 Job seekers meet with recruiteres at a career fair in New York earlier this week.
NEW YORK (CNNMoney) -- First-time claims for unemployment benefits rose slightly last week.
About 365,000 people filed jobless claims in the week ended July 28, up 8,000 from the previous week, the Department of Labor said Thursday.
Jobless claims are closely correlated with layoffs and are seen as a key gauge of the strength of the job market.
It's unclear whether last week's slight rise is a negative sign for the job market, given initial claims have been more volatile than usual lately. Economists often prefer to look at a four-week moving average to smooth out the volatility, and this measure has been falling.
Meanwhile, 3.3 million people filed for their second week of unemployment benefits or more in the week ended July 21, the most recent data available.
The Labor Department is scheduled to issue its July jobs report on Friday. Economists surveyed by CNNMoney expect the report to show employers added 95,000 jobs and the unemployment rate remained at 8.2% in July.