It's easy to point fingers but hard to pin down a single cause. Here are six big issues - and what they really mean for the future of the Big Three automakers.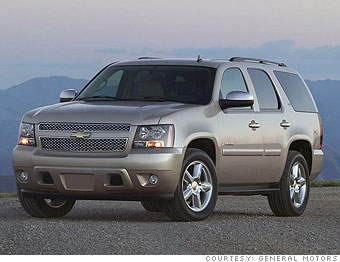 The Chevrolet Tahoe has helped GM capture 70% of the large SUV market.
Gripe: They raked in huge profits for years from gas-guzzling SUVs.
Fact: Raking in profits is good, but taking eyes off the car market isn't.
Detroit depended largely on SUVs for sales and profits for many years. But those vehicles were very popular, and there was very little competition from foreign automakers.
In 2002, General Motors sold more than 2.8 million light trucks including 1.2 million SUVs. That was an increase of 6.2% from the year earlier. That same year, GM sold 2.3 million cars, a drop of almost 9% from the previous year.
When gas prices spiked in 2007, buyers suddenly shifted to smaller cars. That was quickly followed by an economic crisis that drove down sales of all types of vehicles. But trucks remain an important part of Detroit automakers' product strategies. Even with marker share for cars increasing, GM sold more trucks than cars in October
At the same time, automakers need to remember that cars matter, too.
What's to come: For now, GM has scrapped work on a future-generation engineering platform for its next-generation big trucks and SUVs, but that doesn't mean these vehicles will go away.
Chrysler recently announced the shut-down of its plant in Newark, Del. that makes the Dodge Durango and Chrysler Aspen full-sized SUVs. That leaves it nearly out of the large SUV business, at least for now.
NEXT: Lack of small cars
Last updated December 08 2008: 6:50 PM ET
Email
|
Print
|

Digg this story
|

RSS