Never mind massages: At these spas, clients shell out for naps and insomnia relief.
The happy ending: A power nap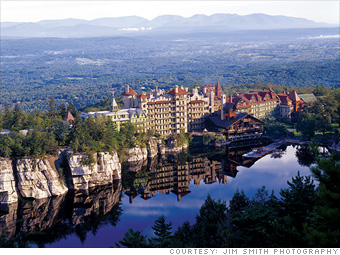 Mohonk Mountain House
New Paltz, N.Y.
Started offering sleep treatments:
August 2005, when the resort's spa opened
What it offers:
The Spa at Mohonk Mountain House's signature massage, facial and exfoliation treatments all conclude with a "guided power nap."
Mohonk Mountain House Marketing Director Nina Smiley calls the "guided power nap" feature at the end of the spa's signature treatments a "book end" for guests.
"We really wanted to provide people with a sense of arrival at the treatment and a departure," Smiley says.
At the conclusion of each spa service, a member of the Mohonk staff guides the client through a closure nap by calling out body parts, from the head to the toes, and asking the client to relax each muscle in turn. Clients are then given five to seven minutes to rest and drift off. At the end of their time, they're awakened with three chimes from tingsha bells.
Spa Director Barbara Stirewalt hopes Mohonk's guidance will give people power-napping training they can draw on later.
"They have a take-home," Stirewalt says. "People are just so stressed these days and don't often have time for too much sleep. A power nap is such a deep relaxation. Once you have the concept, you can do it yourself."
Price: Mineral Body Treatment: $165; "Mohonk Red" massage: $175; "Mohonk Red" facial: $145
NEXT: Snooze your way to corporate bonding