When we asked boomers where they wanted to retire, almost half said by the water. Here are three pairs of retirees who got their feet wet.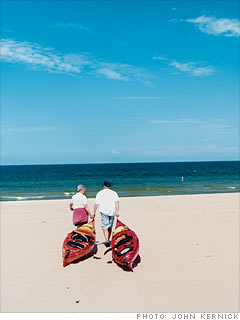 Their jobs: She was an Episcopal priest; he was a special-ed teacher.
Their house: A two-bedroom apartment right on the beach (monthly rent: $835).
The water: They kayak like mad - on Lake Michigan, inland lakes and the St. Joe River.
Renting can be pretty darn appealing in St. Joseph. Three years ago, the Eichenlaubs sold their three-bedroom house in the Detroit suburbs and moved into a spacious two-bedroom, two-bath rental apartment right on the beach. With a $400,000 nest egg and each earning a pension, the couple could have easily bought a place here. But they love to travel and didn't want to deal with the hassles of home ownership - and their rent is just $835 a month.
With the water literally a stone's throw away, it's easy for the Eichenlaubs to go kayaking, which Frank does three or four times a week. Another bonus: "Our children and grandchildren love coming to visit us here," says Frank.
In winter, temperatures can dip into the teens. But the Eichenlaubs embrace the town's seasonal events, such as the Mardi Gras parade and the ice-carving festival in February. They keep busy snowshoeing, attending the symphony and going to local theater productions.
"St. Joe is a resort town, but it's also a community with a life of its own," says Pat.
Last updated September 16 2008: 11:24 AM ET
Email
|
Print
|

Digg this story
|

RSS