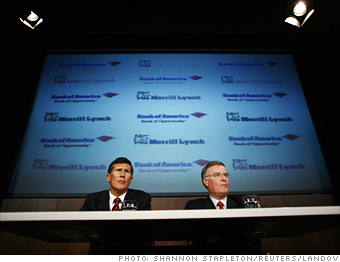 Merrill Lynch Chief Executive John Thain (left) and Bank of America CEO Kenneth Lewis sit during a news conference announcing the aquisition.
News that Lehman Brothers was on the brink of collapse and scrambling for a buyer
first surfaced
on Friday. But by Sunday, there were still no suitors for the 158-year old investment bank, and bankruptcy seemed inevitable. Indeed, just after midnight, in Monday's early hours, the firm officially announced its intention
to file for Chapter 11
.
Equally as staggering, just hours after reports surfaced that Bank of America broke off of talks to buy Lehman, BofA unleashed the news that
it would pay $50 billion
to scoop up Merrill Lynch, another iconic Wall Street name.
As if that weren't enough, American International Group, the nation's largest insurer, said that it planned
to sell some of its troubled assets
in order to raise cash and boost investor confidence.
Concerns about the credit crisis grew increasingly dire, even though the government had already pledged to backstop Fannie Mae and Freddie Mac up to $200 billion just one week ago, and months earlier engineered JP Morgan's purchase of Bear Stearns with a $29 billion guarantee.
But it looked like that wouldn't be enough, so Sunday afternoon the Federal Reserve, along with 10 banks, announced a $70 billion pool of funds to aid troubled financial firms. The U.S. central bank also loosened its lending restrictions.
NEXT: Monday, Sept. 15 - The collapse