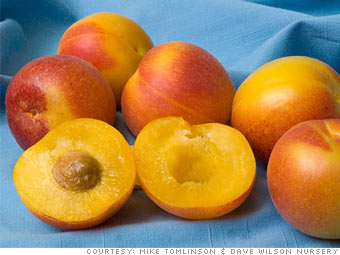 Peacotums are now available from select farmers and food shops.
Zaiger Genetics
Modesto, Calif.
Zaiger Genetics this year began commercial production of the Peacotum - a hybrid fruit that melds a peach, plum and apricot. It was a hit, reports Zaiger General Manager Leith Gardner, daughter of founder Floyd Zaiger: "The growers told us that they got good money for it and want to increase their acreage."
Zaiger Genetics, which graced the cover of FSB in 2005, believes that plums and cherries are going to be the next big hybrid fruit (though the company hasn't settled on a name yet). This past year the company applied for five patents on newly created fruits - three less than a year earlier, but still within the company's target range.
The Dave Wilson Nursery licenses Zaiger 's pluots, a plum-apricot combination. "The fruit market is difficult right now," says Lee Sadler, assistant manager at the Reedley, Calif., branch of the nursery. "But there's been a good reception for the pluot because they have a better size and better flavor." - Emily Maltby

NEXT: Energy from water