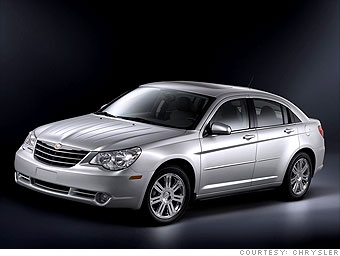 The Sebring simply wasn't up to the competition in a tough segment.
It's been a long time since two American automakers have, at the same time, offered mid-sized sedans capable of taking on the Japanese. Unfortunately, Chrysler wasn't able to make it three.
The Ford Fusion and Chevrolet Malibu, with their sophisticated six-speed transmissions, smart looks and smooth, sophisticated road feel, put the lie to notion that Detroit can't make cars Americans want.
Chrysler's new, redesigned Sebring, meanwhile, sounded and felt harsh and unpleasant compared to its Asian and domestic competitors. The suspension felt weak in the knees and wallowing.
The Sebring certainly would have been competitive a decade or so earlier. If only Chrysler dealers weren't saddled with having to sell it today.
An available heated and cooled cupholder, another Chrysler attempt to score points with novelty, just wasn't enough to make up for all the Sebring lacked.

NEXT: Promising future