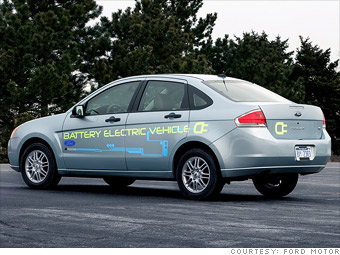 Removing the internal combustion engine from the equation altogether, Ford plans on selling its first plug-in electric passenger car in 2011. (A plug in work van will go on sale next year.)
Ford developed this car in conjunction with automotive supplier Magna International. The test vehicle I drove was built inside the body of a current-generation U.S.-market Ford Focus. The final version will be based on Ford's next-generation Focus, which will be shared with Europe.
The car drives about 100 miles on a full charge. It will take six hours or so to recharge if fully depleted but, since most people drive less than 40 miles a day, a typical recharge will take about three hours, Ford says.
Driving the Focus BEV - for Battery Electric Vehicle - was actually more enjoyable than driving a regular, gas-powered Focus. Acceleration felt quick and peppy and the electrically-boosted steering provided fine road feel.
In this version, at least, the battery takes up substantial trunk space. Expect that to be much improved in the production version.
The problem with cars like this, however, is the dreaded "range anxiety." On most days, 100 miles is fine. But on other days, or the day after you forgot to plug it in, you'll start to worry, as I did when told I was getting close to the limit.

NEXT: Fiesta

Last updated May 06 2009: 11:11 AM ET
Email
|
Print
|

Digg this story
|

RSS