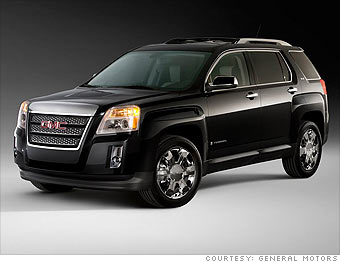 The GMC Terrain, shown here, is a new small crossover SUV. GMC may delve deeper into more car-like vehicles, if a concept shown to journalists and select members of the public is any indication.
GMC has been stretching its "tough truck" brand into car-based crossover SUVs lately with vehicles such as the Acadia and the brand-new Terrain, shown here, which just went into production.
GMC may go even further into car zone, according to a concept vehicle GM showed off Tuesday. The carmaker isn't saying for sure what will happen with it. A GMC designer wouldn't even say if it would be shown at car shows. For now, it's just being shown on a limited basis to get reactions.
Not really a car and not really a crossover, the vehicle has the proportions of something like a Scion xB. It has boxy lines and a tall roof, with ground clearance just barely higher than a typical minivan.
It would clearly be priced higher than an xB, though. The vehicle has a distinctly upscale look, similar to GMC's crossovers, with lots of chrome.
The upscale look is important for GMC, said GM designer Peter Davis. If the vehicles don't have rich interior and exterior details, "we will fail for GMC," he said.
It even has front-opening "suicide doors" in the back, a feature that probably wouldn't make it to production. But, these days, who knows?

NEXT: Cadillac