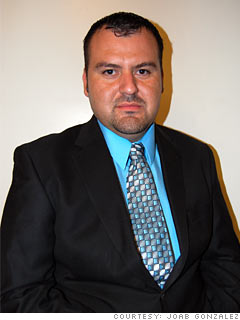 Joab Gonzalez found work for himself and 500 young adults in El Centro, Calif.
Without President Obama's $787 billion stimulus program, Joab Gonzalez wouldn't have a job and neither would 500 young adults in southern California.
Gonzalez runs a youth employment training project at Imperial Valley Regional Occupational Program, in Imperial County, about 120 miles east of San Diego. As federal funding dried up last year, Gonzalez thought the initiative was history.
But the program is thriving this summer thanks to a $1.7 million shot of stimulus funds. Gonzalez, who last year took a pay cut and laid off staff, is able to double the number of youth served and nearly double their hourly wage to $8. He's also able to hire more workers and buy computers.
Gonzalez, 28, is a firm believer that the recovery act will boost the economy.
"I'm doing my part to let our youth know that these monies are meant to stimulate the economy and to spend it wisely, but promptly," he said. "The stores will also feel some relief when the youth and their parents go shopping with their earned money."
NEXT: Scott Gasser: An extra $7.50