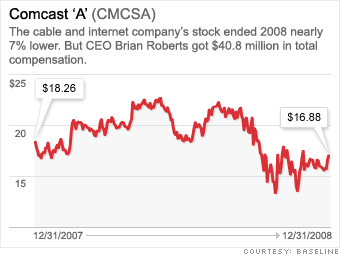 While the cable and Internet provider's stock has performed well over the last 12 months, the company has lagged the industry over the years.
Comcast CEO Brian Roberts received total compensation of $40.8 million last year, Corporate Library said. That includes a $2.7 million base salary and over $22 million in earnings related to stock options. Roberts received a relatively small "discretionary bonus" of $881,027 and a "very substantial" bonus of $7.4 million under a non-equity incentive plan, Hodgson said.
Comcast said in a statement that its 2008 performance was "strong despite what was one of the most challenging economic and competitive environments in decades." The company said its executive compensation practices are "closely aligned with shareholders' interests" and a "major factor in our success."