Despite last year's financial tumult, these five CEOs are still sitting pretty. Here is the Corporate Library's list of the "Highest Paid Worst Performers" of 2008.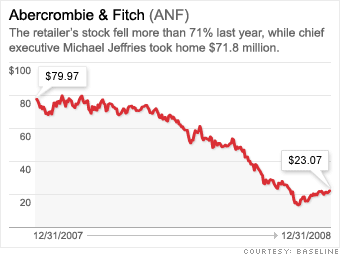 The Corporate Library, a corporate governance research firm, reviewed regulatory filings from 2,000 publicly traded companies and came up with a list of five chief executives they're calling the "Highest Paid Worst Performers" of 2008.
To make the list, a CEO had to have total realized income -- including base salary, bonuses and stock -- of at least $30 million last year. At the same time, the share price of the companies they oversaw had to have underperformed rivals and the broad sampling of stocks in the S&P 500 over the last five years.
Abercrombie's Michael Jeffries was awarded total compensation of $71.8 million last year, with a base salary of $1.5 million, according to the Corporate Library.
His compensation package included a $6 million "stay bonus" designed to keep him on board, despite his 17-year tenure, as well as perks such as the use of a corporate jet.
The Corporate Library notes that Jeffries is compensated at "the upper quartile" of his peer group. In other words, the compensation committee that determines his pay assures he'll be paid more than what 75% of his rival CEOs get.
"If you do that, you're almost guaranteed to overpay your CEO," said Paul Hodgson, a senior researcher at the Corporate Library.
An Abercrombie spokeswoman declined to comment.
NEXT: James W. Stewart, BJ Services Company