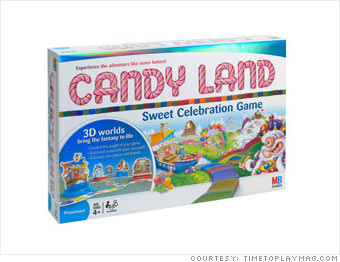 This classic with a twist lets players link together paths with 3-D locations to make up a freestanding game board. The customization ensures that each game differs from the one before while still holding true to its Candy Land roots, using color matching, counting and other basic skills. Players outwit Lord Licorice to win the game.
Lucy Barr, 5, says:
"I already have the candy game."
Alex, 4, Ava, 5, and David Kronman, 7, say:
"Candy Land is boring."
Suggested retail price:
$29.99/Ages 4 and up
Maker:
Hasbro
NEXT: Zhu Zhu Pets