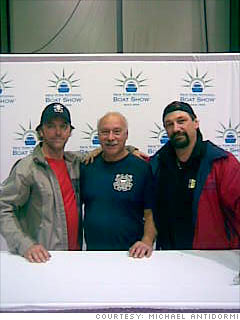 Michael Antidormi, center, poses with the captains of the Time Bandit from the Discovery Channel's Deadliest Catch.
Old Job: VP at Goldman Sachs, $160,000
New Job: Representative, Disabled Veterans' Outreach Program, $36,000
Hardest thing to give up: Not being able to help out my kids as much.
"Until February of last year, I was a vice president at Goldman Sachs with a salary of $160,000, including bonus and 401(k) contributions.
I had been the team leader of the computer help desk for more than six years when we heard Goldman was moving the desk to India. I was laid off Feb. 28, 2008.
I was 61. I'd been planning to retire at 66.
Instead, I received a ten-month severance package, plus $5,000 and vacation pay. After ten months, I finally found a job.
It pays $36,000. That's less than my bonus at Goldman Sachs. But there was nothing else out there. I'm a representative for Disabled Veterans' Outreach Program, which helps other people like me find employment and job training.
I used to help my just-married daughter and college-age son with things like car payments, but now my wife and I are struggling ourselves. That's a bit of a pill when you've worked for 43 years to make it up the ranks. I've had to drain a big chunk out of both an IRA and my 401(k).
The Goldman checks stopped coming Jan. 1, so I'm not yet sure how we're coping. I don't know we'll face in the months to come.
At my job, we try to tell the job seekers something a little upbeat - like a lot of things will be happening in 2009 with Obama. But I'm crying on the inside, because I don't know when it will change all that much."
- as told to Julianne Pepitone
NEXT: Lisa Brake - 55% pay cut
Last updated January 12 2009: 3:07 PM ET
Email
|
Print
|

Digg this story
|

RSS