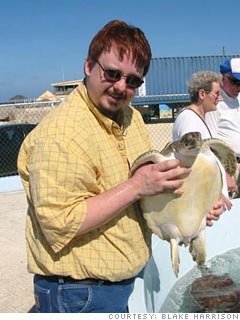 Old Job: Telecommunications - $47,000
New Job: Tour ticketing agency - $12/hour
Hardest thing to give up: Grandmother's house
"I started looking for a job the moment I got laid off in May 2008. It was the second time in five years, so I knew the routine, I knew it would be difficult.
I was making around $47,000 a year in telecommunications. Now I'm making $12 an hour at a tour-ticketing agency. I chase paperwork and make sure it all gets turned in. In my old job I did management, I did quality assurance, you name it I've done it. But in my new job I'm making sure people turn in their paperwork.
There are no big luxury items anymore; no small ones either. Sometimes we go to the movies, but we hit the matinee because it's cheaper. We almost had to give up our house and fought foreclosure twice in the past year.
The hardest part is that right now we are in the process of selling my grandmother's house just to pay the bills, and we're renting out a room in our own home.
Honestly though, I'm just thankful to have a job to go to five days a week. I'm very confident that this year will be a better one now that we have a new administration."
- as told to Larissa Padden
NEXT: Jason Eldridge - ~60%
Last updated January 12 2009: 3:07 PM ET
Email
|
Print
|

Digg this story
|

RSS