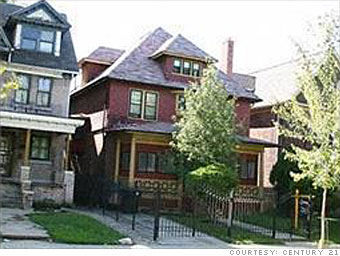 Price: $99,900Bedrooms:
8
Baths:
2
Size:
4,894 square feet
Description:
Victoriana abounds in this revitalizing neighborhood a couple miles west-northwest of downtown. Some of the blocks have been placed on the National Register of Historic Places, and it's one of a few neighborhoods of architecturally significant buildings left mostly intact in hard-hit Motor City. A strong community preservation initiative that sprung up in the 1960s saved it from the urban renewal efforts that claimed many other neighborhoods.
This grand three-story brick home features formal living and dining rooms, a family room, laundry room and a two-car garage. Details include hardwood floors throughout, carved wood moldings and a wood-burning fireplace.
The house needs some work - such as repairs on the plaster walls, according to agent Renee Holman - but it has great bones. And even paying full price, a buyer putting 20% down would have a very light mortgage payment of less than $450 a month for a 30-year fixed rate at the current low interest rates, plus $110 a month in property taxes.
For more information:
Century 21 Today


NEXT: Hubbard Farms
Last updated April 09 2009: 2:08 PM ET