From grand mansions to quaint cottages, 7 homes for sale in urban Detroit neighborhoods you might want to live in.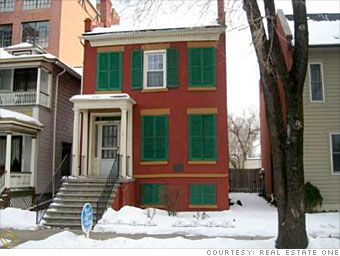 Price: $130,000
Bedrooms:
7
Baths:
4
Size:
2,200 square feet
Description:
The Corktown community, lying only a mile west of downtown, is one of the oldest in Detroit. It was named not after the material, but for its first big influx of residents: Irish from County Cork. The neighborhood's Tiger Stadium hosted the American League baseball team for more than 85 years.
Urban renewal has blasted huge chunks through the heart of Corktown, with freeways and now-empty industrial parks replacing once vibrant and stable housing enclaves. But the neighborhood still retains much of its residential character. Its strengths include a lively music scene with taverns and clubs often frequented by artists and hipsters.
This colonial is one of Detroit's oldest homes and was built in three segments, according to listing agent Tom Ball. The first included the living and dining rooms, both of which now feature fireplaces. The kitchen was a separate building in the back. The house was built with a triple layer of bricks making up exterior walls; insulation is great and the house is very solid.
Taxes in Corktown are reasonable and will add only about $50 a month to the mortgage, which should be about $560 a month, factoring in a 20% down payment.
For more information:
Real Estate One

NEXT: Boston-Edison
Last updated April 09 2009: 2:08 PM ET
Email
|
Print
|

Digg this story
|

RSS