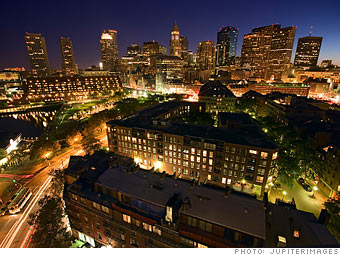 Foreclosure rate:
1 for every 144
Change from 2008:
Down 40.7%
Boston was one of the earliest cities to record a home price decline. The market peaked in the summer of 2005, according to the S&P/Case-Shiller Home Price index, and tumbled about 20%. Recovery is probably further along here than anywhere else, according to Fleming.
Prices are inching up again, which will encourage homeowners to hang tough by adding value to their investments. Plus, in old, established cities like Boston, many homeowners have lots of home equity from years of paying down mortgages.
Future foreclosure risk:
Low. Boston's delinquency rate is lower than the national average but has grown recently, according to First American CoreLogic, to 5.6% for the 90 day period through June. However, the bank owned properties are selling well -- the number on the market has fallen almost in half over the past 12 months.
More galleries
Last updated August 13 2009: 6:12 AM ET