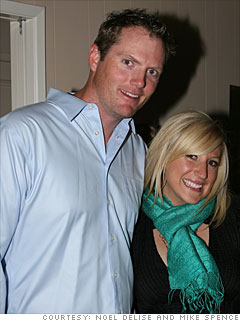 Noel Delisle, 30, and her fiance, Mike Spence, 31. She is a hair stylist and he operates a crane.
Location: San Carlos, Calf.
Property: 3 bed, 2 bath, 1,600 s.f.
Price: $750,000
My fiance and I were running around making wedding plans and looking to buy a home in San Carlos -- about halfway between San Francisco and San Jose. We finally found the right place on Roost.com.
We get married in November, but we're moving into the house this month. I'm excited because it's the best entertaining house we've ever seen. The house is built around a courtyard, and there's a barbecue. I love to entertain.
We felt like we had to hurry and buy before the end of the year so we wouldn't miss out on the tax credit. That turned out to be truer than we thought: As we got closer to the end, we realized how much closing costs and other fees would add to the purchase price, which was high enough already.
The $8,000 tax credit is saving us. Wedding, new house, we're tapped out. We're definitely big fans of the tax credit!
Still, we feel good about the purchase. Even though it's a lot to pay, we feel we got a good buy. The house next door is going for $1.2 million.
Prices have tumbled in this area, so the house is a lot cheaper than it would have sold for a year or two ago, and we got a great rate, about 5.5%, on a FHA loan. We'll use some of the credit money to updating some of the home's circa-1950's decor -- fake wood beams and chandeliers, textured wallpaper and the like.



NEXT: Matt and Jessica Hewitt