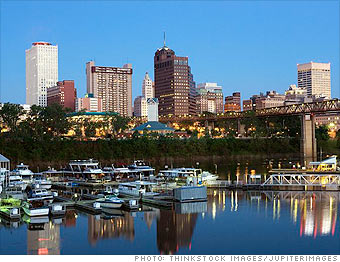 Median home price: $108,000
Value lost since 2006: 19.9%
Forecast gain by 2011*: 1%
The Memphis metro area boasts some of the most affordable housing in the country -- and it grew considerably cheaper during the past few years, falling nearly 20%.
That downturn will continue for another year or so, with prices declining another 1.2% before rebounding 2.2% during 2011. Averaged out, that means a 1% gain over the next two years*.
The economy here has always been tied to the city's position on the Mississippi and, more recently, the intersection of several railroad lines and two major interstates.
Those factors, plus a business-friendly environment, helped attract such heavy hitters as FedEx and AutoZone, a Fortune 500 autoparts retailer. "Memphis," said Mark Fleming, chief economist for First American CoreLogic, "is perfectly positioned for distribution nationwide."
Still, unemployment in the metro area has been a problem lately, with the rate rising to 10.4% in August.
The metro area has been growing steadily in population since the 2000 census, up nearly 7%. The added demand for housing should support home prices, although land in the city's far-flung exurbs can be purchased and developed quite reasonably. The competition from new home builders tends to keep a tight lid on the gains of existing home prices.

NEXT: Oakland, Calif.

Last updated October 21 2009: 4:51 AM ET
Source: Fiserv
* From June 30, 2009, through June 30, 2011.