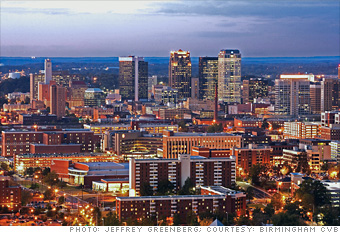 Median home price: $152,000
Value lost since 2006: 6%
Forecast gain by 2011*: 0.4%
Alabama is filled with metro areas that recorded positive returns for home sellers during the past few years. Birmingham recorded a gain of 6% during past three years, but several other state cities recorded double digit gains, including Mobile, where prices grew 13.4%.
The Birmingham area has added people, more than 6% since the 2000 census, and its economy is in transition. While heavy industry still has a presence here with functioning steel companies such as Nucor and US Steel, more modern industries, such as health care and research, have grown exponentially.
Birmingham, like most Southern metro areas, is marked by a "high elasticity of supply," said Mark Fleming, chief economist for First American CoreLogic. Developers are relatively unrestrained in building, and these markets tend to be far less volatile than places like San Francisco or Portland, where development is restricted either by government policies, in Portland's case, or geography, in San Francisco's.
As a result, these cities seem to exhibit slow, steady growth rather than big peaks and valleys. Birmingham is no exception. Fiserv forecast a slight 12-month loss of 0.7% through June 30, 2010, and then a gain of 1.1% the subsequent 12 months. Averaged out, that means a 0.4% gain over the next two years*.

NEXT

Last updated October 21 2009: 4:51 AM ET
Source: Fiserv
* From June 30, 2009, through June 30, 2011.