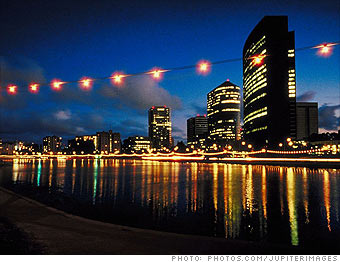 Median home price: $318,000
Value lost since 2006: 48.1%
Forecast gain by 2011*: 0.4%
Looming over Oakland's metro area is the exotic mortgage, such as option ARMs, which will start to reset to higher rates over the next few months. It's feared that could fuel another severe wave of foreclosures.
Still, the foreclosure problem of Oakland pales in comparison with those of inland California cities. Plus, the city also has a lot going for it, including many communities that are "highly sought after by homebuyers," according to Mark Fleming, chief economist for First American CoreLogic. That should buoy home prices once the economy recovers.
Before that happens, Oakland will have to work through some significant economic problems. Unemployment, at 10.7% in the metro area, exceeds the national average, although it pales in comparison to some of the inland California metro areas. Yuba City, for example, has hit 16.1%, and El Centro is at a whopping 28.7%.


With the prospect of continued job losses, it's no surprise that Fiserv is predicting an 11.7% drop in home prices by June 2010. After that, however, Fiserv expects Oakland to take off again thanks to its strong and varied businesses, such as health insurer Kaiser Permanente, Clorox and retailer Dreyer's.
Its position across the Bay from San Francisco and its great educational institutions, led by the University of California, provide a further base for the economy. Fiserv forecasts that home prices will return to double digit growth starting next June and produce gains of 13.7% in the following year. Averaging out the drop and the gain, Fiserv expects a 0.4% rise over the next two years*.

NEXT: Birmingham, Ala.

Last updated October 21 2009: 4:51 AM ET
Source: Fiserv
* From June 30, 2009, through June 30, 2011.