Drug check: Real or fake?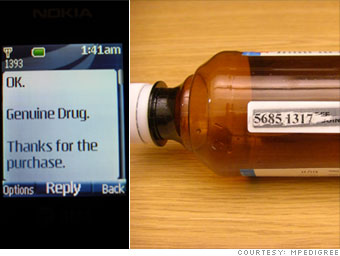 Company:
mPedigree Logistics

Team members:
Ashifi Gogo, Ph.D. Fellow, Thayer School of Engineering, Dartmouth College
Shivam Rajdev, MBA 2009, Tuck School of Business at Dartmouth
Concept: Counterfeit drugs are a menace in developing countries, where the fake stuff accounts for a third of what reaches market. In Nigeria last year, 80 infants died after ingesting teething syrup laced with chemicals.
The solution? mPedigree has developed a mobile-device-based application to authenticate drugs. Consumers text a single-use number contained on the drug packaging to a designated server. A return message will indicate "genuine" or "fake."
The goal is to have pharma companies pay mPedigree for the labels and data mining. But the business model faces challenges, including consumer apathy and some governments' unwillingness to "change the status quo," says computer engineer Ashifi Gogo, the company's chief technologist.
mPedigree won $20,000 in Forum Nokia's "Calling All Innovators" contest, and angel investors have begun answering that call, says Gogo. The company is also one of nine teams selected by startup support organization Venture Well for its 2009 development program.
Gogo has toiled seven days a week for nearly two years straight on mPedigree. In the early months, he downed a liter of lemonade a day for energy until "my sister said I could get diabetes," he recalls.
Timeline: A prototype is already in the works, and mPedigree will launch in India later this year. In the meantime, Gogo is exploring other applications for mobile-based authentication, particularly in creative industries such as film.
Editor's note: mPedigree Logistics, a for-profit venture, is a separate entity from mPedigree.org, a non-profit advocacy organization. This article has been updated to reflect the distinction between the two.

NEXT: Electrifying India