Do good and make money: That's the goal of these six startups vying for the Social Venture Award and $10,000 in seed money at the Rice Business Plan Competition.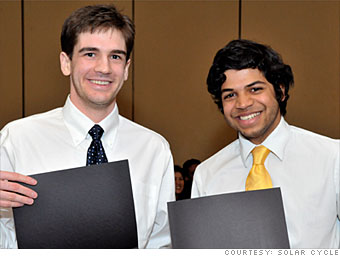 SolarCycle CEO Drew Durbin (left) and Marketing Director Shyam Sundaram.
Company:
SolarCycle
Team members:
Drew Durbin, John Tilleman, Kathleen Fleming and Nilay Patel of Brown University; Shyam Sundaram, Georgetown University
Social Venture Award Winner
Concept: Waterborne illness is rampant in sub-Saharan Africa, where almost half of the population lacks access to safe drinking water.
SolarCycle's solution: Urban trash. The company's co-founders have created a solar cooker and a water pasteurizer out of the aluminized interior of chip bags. Both products work by concentrating solar energy into cooking pots or water troughs. The products are low-cost: The solar cooker, which has a life expectancy of five years, can be manufactured for $3 and sold in Africa for $5.
The idea hit after co-founders John Tilleman and Drew Durbin learned that Tanzanian women spend hours collecting firewood. Early test runs of their solar cooker took place on the rooftop of Durbin's Boston apartment. Their first meal of rice and beans took an hour to prepare. "Boston's not nearly as warm as Africa," says Durbin.
The team has poured $70,000 of business competition winnings into acquiring industrial machinery. Angel investors have also come knocking despite the dreary economic climate because, Durbin says, the company offers "tremendous social returns."
Timeline: SolarCycle will take several dozen prototypes to Tanzania this summer, aiming to serve 80 people through a pilot project. They plan to open their first factory there later this year.
NEXT: Shining a light in dark places