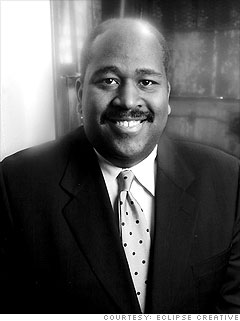 Eric Longs, president and CEO of Eclipse Creative
Facing staggering job losses from its largest employers, the Big Three automakers, Detroit is turning to small businesses to help create a new job base.
Detroit joined the Emerging 200 program this year and recently started training its first class of 16 participants, from industries including energy, construction, marketing, restaurants, engineering and security. Though the businesses are diverse, they face similar hardships in a metro region that had a 14% unemployment rate in March.
"These businesses have persevered despite being located in neighborhoods where the challenge is higher-than-average unemployment and poverty," says Constance Logan, senior manager for the Small Business Administration's Detroit office.
The program has served as a sounding board for Eric Longs, president and CEO of Eclipse Creative, a marketing company. He has appreciated the chance to talk with other small business owners.
"One of the strong components of the course is the ability to share information with other businesses who are located in the city," Longs says. "It's really a great opportunity to have an unofficial board to bounce ideas off of."
Eclipse Creative opened in 1996 and had sales of $1 million last year. While Longs' business has been successful, he joined E200 to take advantage of a training opportunity that allows him to continue working full-time on his business.
"As a small business owner, I don't have time to go back to class to get an MBA," says Longs, whose company has four employees.
Longs looks forward to creating a new three-year plan for Eclipse Creative through E200 and learning how to better delegate responsibility to his employees so that he can focus on growing the business.

NEXT: Boston