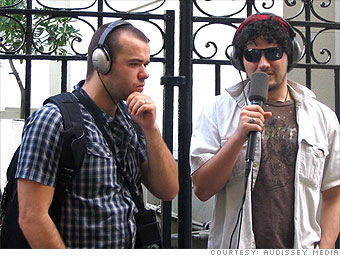 Rob Pyles (left) on location with Audissey Media's New Orleans narrator, Brent Baudean.
Rob Pyles, who launched his company with no formal business training, joined last year's Emerging 200 class in Boston hoping to become more confident as an entrepreneur. He left with a new business model that has helped his new-media company survive the economic downturn.
Pyles founded Audissey Guides in 2005. The company partners with tourism groups and municipalities to create video and audio walking tours that travelers can download to their iPods for free. While Pyles declined to discuss the company's revenue, he says Audissey has been on a growth track since it opened.
Still, Pyles and his E200 classmates were nervous when the economy began to tank last fall. They began to brainstorm ways their companies could be more empowered to control their own fates. Because of those conversations, Pyles changed the name of his company to Audissey Media in October and expanded the company's offerings beyond walking tours to provide general new-media production services.
Pyles credits E200 for giving him the skills and support to make the change. "We really felt like that helped insulate us from the downturn," says Pyles, who has five employees.
Audissey was one of 20 companies that participated in Boston's first E200 program last year. This year, the city has 13 participants, whose industries include construction, dry cleaning, transportation and architecture.
Elizabeth Moisuk, public affairs officer for the SBA in Boston, says the SBA is working closely with this year's smaller group of E200 participants to help them get the most out of the program. "The district office has become even more involved with the companies and is communicating with them regularly to see where their needs lie and if all of their expectations are being met," she says.
Last year's E200 inspired other changes as well for Audissey Media. The company has gotten into federal contracting because of contacts that Pyles made in the class. In fact, Audissey recently completed a video for the SBA, and plans to start doing tours for the National Park Service soon.
"In a tight economy, you hopefully want to enlarge you potential pool of customers, and the E200 class helped us do that," Pyles says.

NEXT: New Orleans