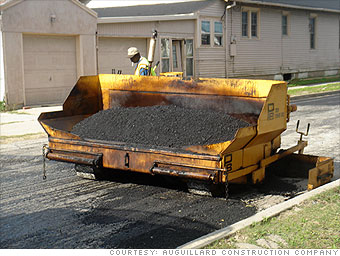 Auguillard Construction at work.
Denise Auguillard, president and CEO of
Auguillard Construction Company
, believes the Emerging 200 program has made her a better employer.
Auguillard, who opened her company in 1985 and has 42 employees, has implemented several human-resources strategies inspired by last year's E200 program. She's holding more frequent staff meetings to increase communication, expanding the company's employee manual to provide detailed information about vacation time and performance expectations, and researching options for providing health care coverage for her staff.
That will be an expensive new benefit, but one Auguillard hopes will pay off by motivating good employees to stay with her firm. To free up the money, she's reducing the company's project-related expenses and being more vigilant about collecting on past-due customer bills.
The Emerging 200 training "made me look at the structure of my business, and different policies and procedures that needed to be put into place," says Auguillard, who had sales of more than $5 million last year.
Auguillard is one of 17 entrepreneurs who participated in New Orleans' first E200 class last year. This year, New Orleans has 14 class members from fields including construction services, engineering, consulting, personnel management and technology.
Loretta Poree, public information officer for the SBA's New Orleans branch, says several of last year's participants have been able to expand their companies. One business owner used the lessons he learned to prepare his company to acquire a competitor, while others have relied on E200's training to make financial decisions that have increased profits for their companies, Poree says.
"Last year's participants spoke highly of the program, and because of their positive feedback, we were easily able to recruit participants for this year," Poree says.
Auguillard says E200 had direct-bottom line benefits for her company. It helped her pursue additional work with the U.S. Army Corps of Engineers and inspired her to hire a full-time accountant to assist with Auguillard Construction's budget.
But it's the so-called "soft" benefits, the human-resources tips, that Auguillard values most highly. She's learned to delegate work to her employees to take pressure off herself and help the business operate smoothly when she's not around.
"I've learned I wear too many hats, and that I need to put key people in place and trust them to do their job," Auguillard says.

More galleries