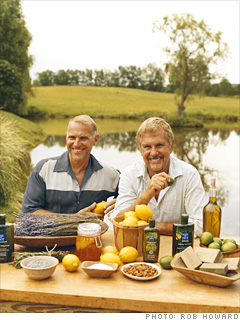 Byckiewicz and MacLeod at their upstate New York farm
Demand for the soap became so great that Byckiewicz flew to Athens to track down the original manufacturer. The pair borrowed $20,000 and bought 22 tons of soap. It sold so fast they were able to repay their loan in 90 days -- and Kiss My Face was born.
"That was our magical business moment: We realized we could be more than a one-trick pony," MacLeod says.
Almost 30 years later their company, Kiss My Face, sells more than 200 bath and body products in 19 countries. The business is still small in size -- 55 employees headquartered in an old feed store in Gardiner, N.Y. But sales are big: $75 million in 2008.
"We've always listened to customers," MacLeod says. "In 1991, during the first Gulf War, an American soldier in Kuwait wrote to us. He said he had used precious rucksack space to pack our shaving cream and thought it was junk. That letter was very painful to us. We pulled the product immediately and told retailers we'd return with something better. We did, and it became a bestseller."
Read more about how Kiss My Face got started.

NEXT: Re/Max's property values