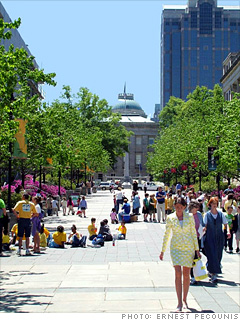 Population growth 2000 - 2009:
41%
As part of the Research Triangle, North Carolina's capital city continues to lure in residents: Since the 2000 census, more than 230,000 people have moved into the area.
And like other Southern cities, Raleigh has benefited from Florida's real estate bubble bust. Retirees looking for warmer climates and a lower cost of living are now considering Raleigh to be a sound alternative, said Mark Mather of the Population Reference Bureau.
Rewards:
Will likely see a boost in federal funds from the nearly $1.9 billion received in 2008.

NEXT: Winner: Las Vegas