From police horses to fireworks to wrangling stray chickens, these cash-strapped cities are eliminating all kinds of services.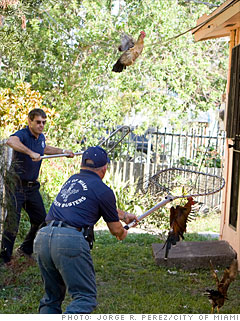 Annual savings: $20,000
Some cities have dog catchers. Miami has a chicken catcher -- or at least it did.
Four years ago, Miami residents were overrun with loose chickens. So the city added a full-time Chicken Buster to the payroll with an annual salary of $13,000. Since then, the program has resulted in 15,000 hens and roosters being wrangled and sold to an area farm for a total of $10,000, which was donated to city charities.
But when Miami started squawking about a $118 million budget deficit, civic leaders decided to cancel the program. On top of the Chicken Buster's salary, Miami estimates it will save $7,000 a year in operational costs, including transportation and uniforms.
NEXT: Fireworks fizzle - Chicago