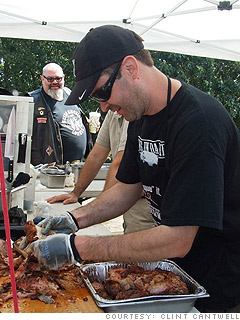 Clint Cantwell says his barbecue contests are extremely important to him, despite the steep cost.
I am a competition BBQ cook so I spend $200-$300 per contest times 10-12 contests a year. My wife just thinks I'm nuts. So I'll often keep receipts from my wife after shopping for meat.
It just keeps me out of trouble. She doesn't have to know that the steaks are prime sirloin.
I'm sure she would rather I spent less money on meat and more money on clothes for the kids and gifts for her.
NEXT: Rochelle Peachey: Oh, but I've had these *forever*
Last updated December 06 2010: 3:14 PM ET