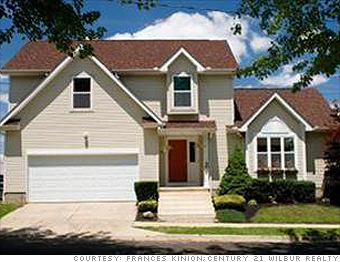 A like-new, 3-bed sells for just $120,000 in Akron.
Median home price:
$100,000
Median income:
$65,000
Affordability score:
92.2%
Akron was once synonymous with the American rubber industry, especially tires, and as the auto industry has declined, so has the city suffered. It's most famous export now is now LeBron James.
The city is trying to come back via information technology. Research and development of polymers has helped fuel the economy with many well-paying jobs. But the population is still on the downswing, falling to fewer than 210,000 from nearly 300,000 just 50 years ago. And the area's unemployment rate, at 10.7% in December, has been running above the national average.
The stagnant population has kept demand for housing low and prices reflect that. Buyers benefit, with more than 92% of homes sold during the quarter affordable for the typical family.
NEXT: Least affordable: New York City