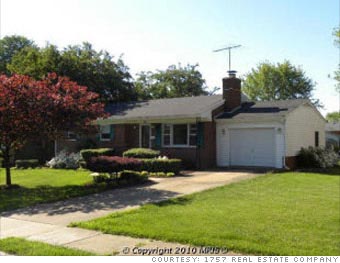 This 3 bedroom, 2.5 bath is on a large lot in Leesburg Va. It's selling for $335,000.
Population: 301,171
Growth rate since April 2000: 77.6%
Washington D.C.'s metro area population bomb has expanded well beyond the Beltway. Workers are commuting from as far away as Harpers Ferry, W.V., and beyond.
Loudoun County is not quite that far removed from the capital's core, but it does occupy a wide swath of territory northwest of Dulles Airport, a long drive from the center of D.C.
According to Rosemary deButts, a housing market analyst and realtor in northern Virginia, Loudoun County was mostly dairy farmland before the 1990s, when home seekers started to flee high prices and congestion for cheaper prices and more space.
Population growth slowed to 3.8% in the 12 months ended July 1, 2009, down from about 7% through most of the 2000s.
Prices are now off about 15% from their 2006 peak and that has enabled many buyers to settle in Loudoun rather than seeking cheaper housing further out. That enables them to avoid a "beastly commute," in deButts' words.

Loudoun and the rest of northern Virginia were hit harder and earlier by the housing bust than the rest of the state. Now conditions are on an upswing, though foreclosures are still high. There were 86 repossessions in May and 381 foreclosure filings of all types.

NEXT: Forsyth County, Ga.

Last updated June 21 2010: 1:03 PM ET
Source: Census Bureau
Population and growth data is from July 1, 2009, the most recent available from the Census Bureau.